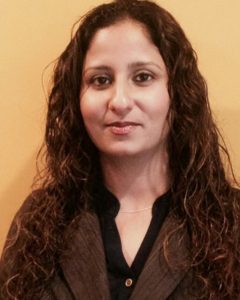 Laveena Khanchandani, PsyD
Licensed Clinical Psychologist (Virginia)
Seeking therapy can often be a difficult decision and can create anxiety and ambiguity about what the process will entail. However, Dr. Khanchandani functions from the foundation for a positive experience in therapy which first begins with establishing a safe and trusting therapeutic relationship. Doing so, can encourage positive growth towards goals. Therapy is facilitated with transparency about what to expect from therapy and goals are formulated collaboratively.
Credentials:
Doctorate degree in Clinical Psychology (PSYD)-2013-Argosy University-American School of Professional Psychology
Masters of Science in Clinical Psychology (M.S)-2009-Loyola University in Maryland
Masters of Arts in Public Administration (M.A)-2007-University of North Carolina in Wilmington
Bachelors of Arts in Psychology (B.A)-2005-East Carolina University
Clinical Experiences
Dr. Khanchandani's clinical training and employment comprise of the following: private practices, community-based organizations, non-profit organizations, and inpatient/outpatient hospitals including Saint Elizabeths Hospital and Johns Hopkins Hospital. Areas of specialized population includes: children, adolescents, adults, families, and couples. Knowledge and expertise comprise of providing individual, family, and group therapy as well as conducting psychological evaluations. Collaborative treatment planning and a strong therapeutic relationship is a key to a successful outcome and paramount of clinical care.
Dr. Khanchandani has also received specialized training in conducting group therapy in the following areas: social skills, coping skills, anger management, competency groups, substance abuse, dialectical-behavioral therapy (DBT), trauma-focused Cognitive Behavioral Therapy (TF-CBT), and other psychoeducational and supportive groups.
Dr. Khanchandani has a strong interest in conducting psychological and neuropsychological evaluations which are used to provide diagnostic clarification, treatment recommendations, emphasize an individual's strengths and weaknesses, assess for cognitive, neurological, attentional, memory, emotional, social, and personality functioning, and assist with development of individualized educational plans.
Mindfulness, crisis interventions, developing/implementing individualized positive-behavioral support plans, and anger management are also many of her special interests.
Dr. Khanchandani's areas of expertise comprise of using an integrated therapeutic approach in development of culturally sensitive client-centered treatment plans with focus on cognitive-behavioral therapy, family therapy, substance abuse counseling, marital therapy, and interpersonal therapy.
Dr. Khanchandani's specialty areas also include the following:
Depression
Bipolar Disorder
Trauma and Stress Related Disorders (PTSD)
Generalized Anxiety Disorder
Grief/Bereavement
Reactive Attachment Disorder
Autism Spectrum Disorders
Learning Disorders
Substance Abuse/Dependence
Conduct Disorders
Personality disorders
Psychological Evaluations
Parental Capacity Evaluations
Neuropsychological Evaluations
Diagnostic Evaluations
Substance Abuse Evaluations
Dr. Khanchandani also has experience working collaboratively with multidisciplinary treatment teams which include physicians, psychiatrists, social workers, schools, case managers, and other professionals, as coordinated care is the best approach for providing an optimal level of care.
Languages spoken: English & Hindi